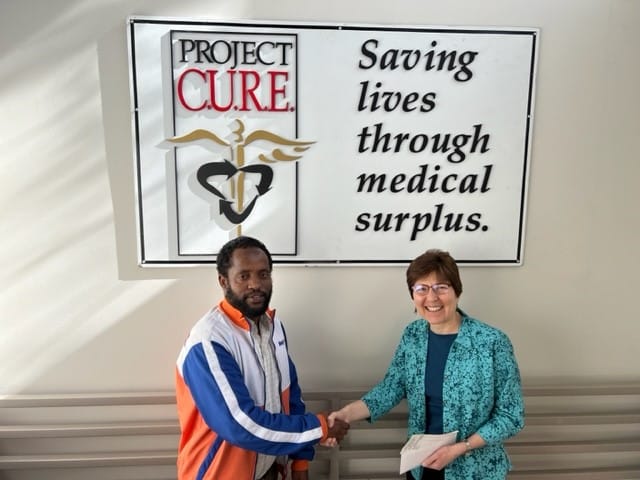 Improving healthcare for his hometown community has been a goal of Colorado resident Haji Abdula since the day he moved from Ethiopia to the United States. Now, a Project C.U.R.E. Cargo container full of donated medical supplies and equipment is headed to several clinics in Ethiopia as a result of his dedication and fortitude.
The Franko Clinic in Shashmane, Ethiopia, is a private specialty clinic owned by Haji. The facility serves an area that has limited medical care for approximately 192,000 residents. Haji and his team are in the process of opening two additional Franko Clinics within a 1.5-mile radius.
Haji was born and raised in Shashamane along with his eight siblings. As a third-year university student studying electrical engineering, Haji won a USA visa lottery amongst 400,000 other students. Haji gave up his university education in Ethiopia due to his visa award's expiration date and moved to Colorado. Haji worked in housekeeping at Children's Hospital Colorado to cover his living expenses and to start saving to fund the prohibitively high costs of higher education in the United States. A few years later, he enrolled in the radiology school at the Community College of Denver (CCD). At the same time, Haji started working as a driver to earn enough to begin saving at least $10,000 per year to put toward his goal of opening healthcare clinics in Shashamane.
COVID and family health issues interrupted Haji's studies at CCD, but nothing has stopped him from working day and night to earn money for his clinics. Haji often works multiple jobs to support his clinics and his family. He has earned a 500+ hours certificate for x-ray training from CU's University Hospital. And, he still plans to complete his Radiologic Technology certificate in the near future.
Haji considers himself "one of the luckiest men alive" and he is committed to using his good fortune to give back to his home community. Haji paid nearly 85% of his container project cost of approximately $34,000 (in cash!) from his personal savings account along with support from his immediate family members who pooled funds to help him reach his goal.
Haji is truly changing the world and saving lives through his efforts. We're honored to partner with him to deliver health and hope to his hometown in Ethiopia!