Donation Comes as Baxter Completes Acquisition of Hillrom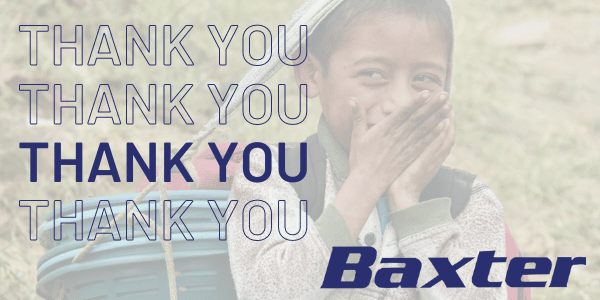 Project C.U.R.E., the world's largest supplier of donated medical supplies and equipment to resource-limited countries, has received a major gift from the Baxter International Foundation, on behalf of employees following the acquisition of the Hillrom Corporation by Baxter International Inc.
Verónica Arroyave, senior director of Global Community Relations for Baxter and executive director of the Baxter International Foundation, remarked, "The Baxter – Hillrom combination unites two companies deeply committed to community impact. We are proud to support Project C.U.R.E.'s critical efforts to help patients in need, especially as we focus our own efforts on empowering patients as one of three pillars guiding our corporate responsibility efforts over the next decade."
In honor of their shared commitment to social responsibility, the Baxter International Foundation is donating more than $300,000 to Project C.U.R.E. on behalf of their employees and in alignment with Baxter's 2030 Corporate Responsibility pillars.
"We are extremely grateful for this amazing investment in the work of Project C.U.R.E. It is an incredible vote of confidence in our ability in alignment with Baxter's mission to save and sustain lives," said Dr. Douglas Jackson, President/CEO of Project C.U.R.E. "Hillrom has been a longstanding partner of Project C.U.R.E., and teams from Baxter have worked with us in our distribution warehouses. We look forward to continuing our work together in the days ahead. Their commitment to corporate responsibility aligns directly with Project C.U.R.E.'s mission to deliver health and hope to the people who need it the most."
Hillrom recently donated 42,000 temporal forehead thermometers to Project C.U.R.E., valued at over $6 million. These critically needed thermometers have been delivered to hospitals and clinics around the world as part of Project C.U.R.E.'s fight against COVID-19.
At Project C.U.R.E. we rely on medical equipment or supply donations to make a world of difference. Find the nearest distribution center near you to donate or you can donate directly to Project C.U.R.E. online by clicking below.