Essential Medical Supply Kits
To order a C.U.R.E. Kit, please complete the form below. If you are interested in supporting Project C.U.R.E.'s campaign for Ukraine, visit the Caring for Ukraine Donation page to make a gift.
A C.U.R.E. Kit consists of a 50 lb. suitcase-sized bag that is pre-packed with basic medical supplies. C.U.R.E. Kits can be easily transported and checked as luggage on your next trip to a community in need abroad. Typical contents include exam supplies, wound care and personal hygiene items, critical supplies that are desperately lacking in most clinics in developing countries but are essential for medical care. Each pre-packed Kit contains $2,000 worth of donated supplies. If you are traveling to an underserved region of the world, request a C.U.R.E. Kit with a donation of $250 today or sponsor a C.U.R.E. Kit for another traveler.
C.U.R.E. Kits may be picked up at a Project C.U.R.E. distribution center near you, or can be shipped to a U.S. address. Local pick-up of C.U.R.E. Kits at the Project C.U.R.E. distribution center is encouraged. If you are picking up your Kit(s), turnaround time can vary by location, but at a minimum, your Kit(s) will be ready two business days after we receive your order. If you are having a Kit shipped to a U.S. address, please allow 2-3 weeks in additional delivery time.
Requesting a C.U.R.E. Kit
1. Request Your Kit
Request your C.U.R.E. Kit by completing the application. Please submit your request at least three weeks prior to your departure date. If your departure date is within three weeks please contact us below.
2. Make Your Donation
Make your $250 donation online when requesting your C.U.R.E. Kit, or by sending a check to our International Headquarters at 10377 E. Geddes Ave., Suite 200, Centennial, CO 80112 Attn: C.U.R.E. Kits.
3. We'll take it from there!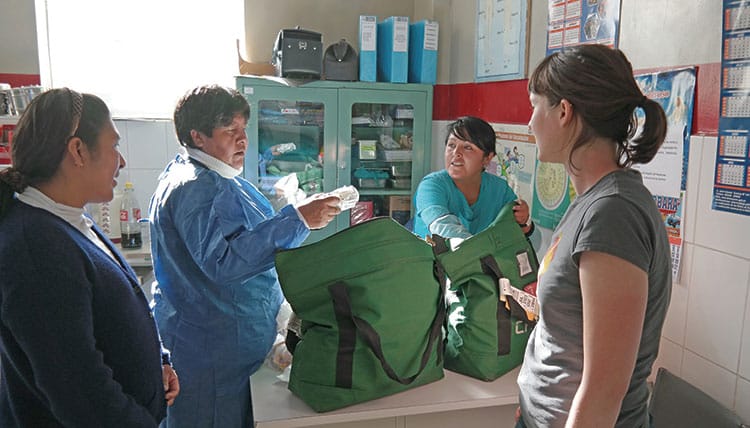 C.U.R.E. Kit Details
Download a packing list of all the items included in a C.U.R.E. Kit
Restrictions
C.U.R.E. Kits may not be used in the United States. Additionally, once C.U.R.E. Kits are released to the traveler, they must be used in the provision of medical care in a foreign country, and the Kit or its contents may not be sold.
Traveling
C.U.R.E. Kits are designed to meet international airline travel regulations. These sturdy duffles weigh 48 lbs. Each Kit includes an inventory list of the items contained inside and a donation letter that may be required at customs.
Handling Fee
Project C.U.R.E. requires a handling fee of $250 to cover the procurement, storage and administration costs associated with this program. Ground shipping within the U.S. is included in the handling fee.
Request more information about C.U.R.E. Kits